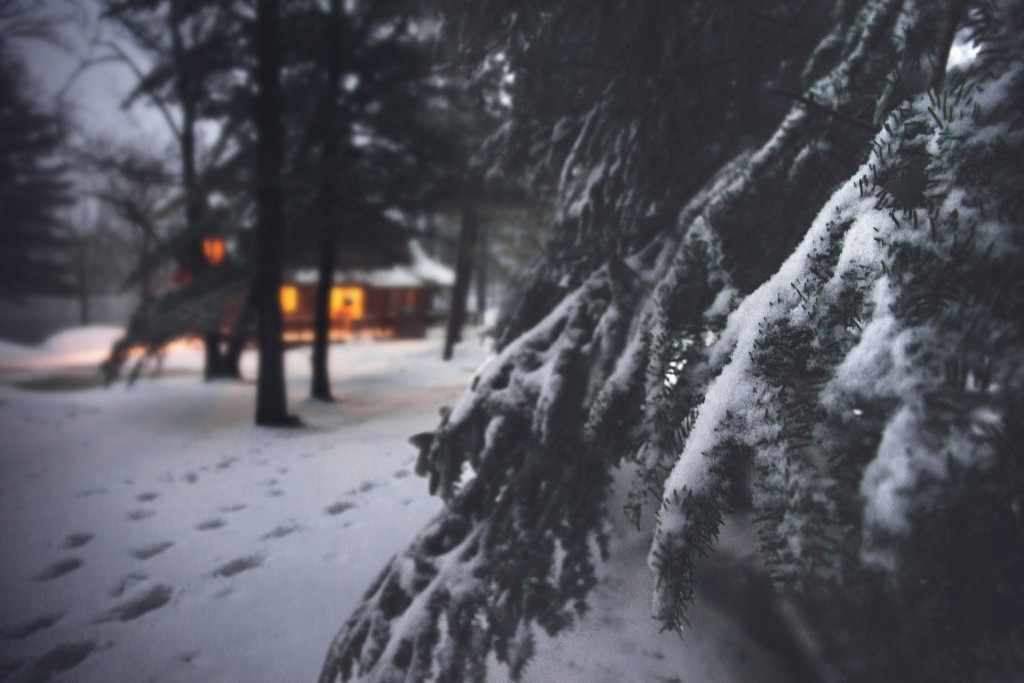 Garrison Keillor once wrote that the reason Minnesotans love their state fair so much is that it's the last hurrah before the The Long Dark Time. Of course, this overlooks the fact that September and October are often vibrant and beautiful but I understand his point. Sometimes it feels as if there are two seasons in our region, the season of darkness and the season of light. At my latitude the November sun sets at 4:30 p.m. and disappears earlier and earlier each day. It's been a strangely mild month, but snow is in the weekend forecast. Today the wind is shaking the windows as if to test their strength and I can't keep my hands warm. Winter is on its way.
Last year I hit a low point with my attitude towards winter. As a child, I loved it. I remember the thrill I felt when I'd wake up to a world covered in glowing white snow. It was magic. I didn't dread winter. I didn't get stressed about it. (I also didn't drive or shovel, so there's that.) Every winter was new. As an adult, winter has accumulated in my heart like a slow-growing glacier. Each snowfall adding to the last, resentment mixed in like sediment, new snow on old, dirty drifts. Last year, I realized that part of the reason it was hard for me to face our coldest season was that I was carrying around the weight of thirty-two winters in my heart. It wasn't new anymore. It was routine. I focused on the cold and the dark. The bad hat-hair and dry skin and that one hill on Monroe Street where everyone gets stuck if the light turns red at the wrong time. But I did start to wonder, what if I chose to think differently? What if I thought like a kid? I tried it then—to some effect—and I'm trying again this year. Optimism takes energy. But so does pessimism.
One person I know who enjoys winter is my dad. Any time anyone grumbles about winter weather, his reply is quick: "Take up cross-country skiing!" A few years ago that's what he did. Of course he had skied off-and-on over the years, but that year it became a bonafide hobby. He and my uncle bought their own equipment and season passes to the county park. The county park has miles of groomed, well-lit trails and a warming house that serves hot chocolate. Once the trails open, they'll ski together as often as five times a week. My dad's newfound hobby has helped him reframe winter. It's no longer "The Long Dark Time," it's ski season.
Scandinavians have a way of reframing winter, too. In Denmark, it's called hygge. It's an ethos that isn't necessarily confined to a single time of year, yet winter is it's high season. The word "hygge" is actually Norwegian but its cobbled-together English translation is "coziness, well-being, togetherness." Getting together with friends and family, drinking mulled wine or hot chocolate, wearing sweaters, eating by candlelight, being kinder to yourself and others, it's all a part of hygge. One article I read described it as the things you do to buffer against the cold, darkness, and solitude. It sounds quite beautiful, and I wonder why my Danish ancestors didn't pass it on. The winters in the Scandinavian countries are longer and darker than anywhere I've ever lived, so if you can trust anyone to find a way to deal with it, it's them. 
This weekend (since everyone tells me it's still too early to decorate for Christmas), I'm going to practice some hygge. If you're interested in doing the same, check out these links.
Hear about hygge from the Danes: A Swedish reporter interviews people in Copenhagen in this short video.
Another take on hygge: An article from the BBC.
29 ways to enjoy winter: Sarah Von Bargen wrote a great post about how to put hygge in action.
Beautiful wallpaper and textiles: Hygge & West is a company founded on the principles of hygge that translates this feeling into the products they offer.
One way to pretend you're in a cozy cabin: I've found the perfect (non-Christmasy) candle called Cozy Cabin from Bath & Body Works. Its scent is vanilla and sage so it's sweet without making your home smell like cupcakes. The online reviews are unfavorable but mainly because people think it doesn't have a strong enough scent. My allergies and I think it's just right.
A poem for fireside reading. (Or in my case, the "Yule Log" app on my TV.) "Winter-Time" by Robert Louis Stevenson.