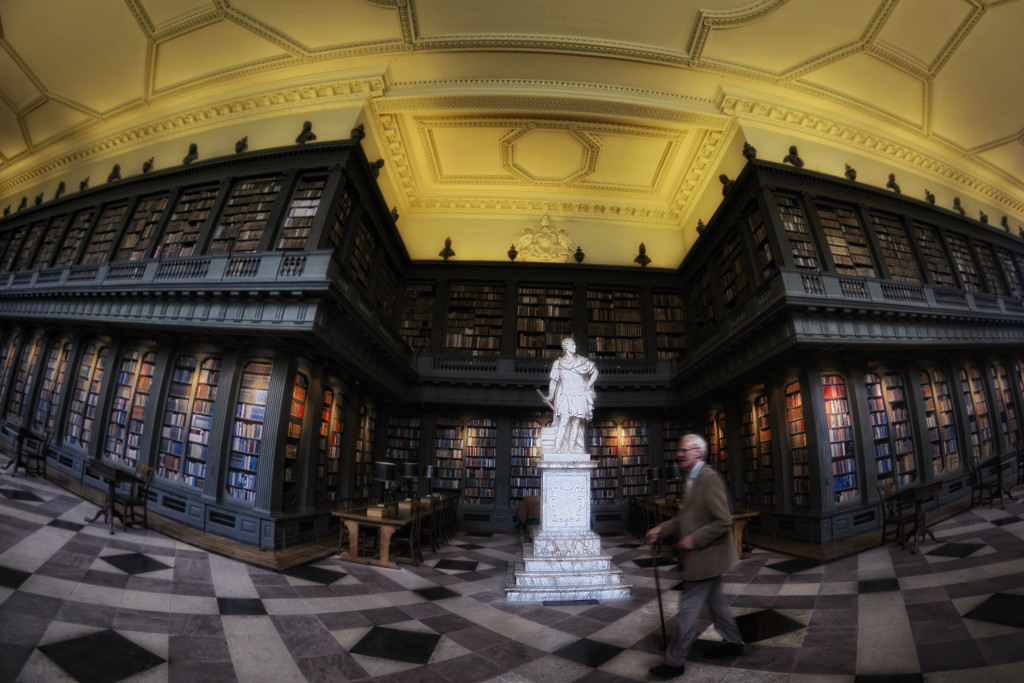 It's tempting to spend our upcoming UK trip staring at plaques on the sides of buildings. Little metal plaques that say "Jane Austen lived here" or "Charles Dickens wrote Oliver Twist here." (It would be an interesting trip but the photos would be repetitive.) The amount of literary history in England is staggering to me. As we plan our itinerary, we could easily fill 15 days with pilgrimages to writers' homes, graves, and stomping grounds. Not to mention all the bookstores and libraries. Considering that we'd like to hike the countryside and drive the length of Wales, we'll have to narrow down our list of literary stops. For other book-loving travelers, I've shared some of our options below. I think there may have to be Part 2 in the future.
The biggest library in the world. The British Library has 170 million items in its catalogue including the Magna Carta, Shakespeare's First Folio, Leonardo Da Vinci's notebooks, a Gutenberg Bible, and a manuscript of Jane Eyre. Not all of the library is open to the general public but everything listed above is on public display. Find out more about the British Library here.
Wales is for readers. Hay-on-Wye sounds like a booklover's dream. Despite the Welsh town's small size (around 1,500 residents), it has more than two dozen bookstores and holds an annual literary festival that draws more than 80,000 people. Find out more about the town and the Hay Festival here.
A walk through Dickens' London. Billed as "tours for the intellectually curious traveler," Context Travel offers in-depth walking tours in various European cities. One of their London tours focuses on the life and work of Charles Dickens with stops in Bloomsbury, Covent Garden, and last remaining Dickens' residence in the city. Sign me up!
Becoming Jane. Before there was Colin Firth and innumerable BBC and Hollywood film adaptations, there was simply Jane Austen. Though Austen's actual birthplace in Chawton (the village rectory) no longer exists, there are a few places in southern England where she left her mark. This article provides an overview of these sites including Winchester (the site of her grave) and Bath, where she lived for five years. In preparation for our trip to Bath, I'm planning to brush up on my Persuasion and Northanger Abbey. 
A writer by any other name. I'd love to visit Shakespeare's birthplace in Stratford-upon-Avon, but I'm a little wary of the town's touristy reputation. If someone can assure me that the streets aren't lined with old-time Western photo shops and homemade fudge stands, I'm more likely to do it. At the very least, I'd like to see a performance of the world-renowned Royal Shakespeare Company.
Writers of Oxford. The university town of Oxford has seen its share of writers in its 900-year history. Walking tours are available that will take you in the footsteps of writers such as: Oscar Wilde, Lewis Carroll, T.S. Eliot, Dorothy Sayers, J.R.R. Tolkien and C.S. Lewis. You can even have a drink at The Eagle and Child, the pub that was Lewis and Tolkien's frequent meeting place.
Tolkien's rough drafts. Speaking of Tolkien, Oxford's Bodleian Library has a collection of his original manuscripts and Lord of the Rings artwork. (Surprisingly, most original manuscripts of The Hobbit and The Lord of the Rings are in Milwaukee at Marquette University. As in, that city on the lake that's about 75 miles down the highway.) 
J.K. Rowling's cafe. We won't visit Scotland on this vacation, but I'm filing this information away for a future trip. Edinburgh is home to The Elephant House, a coffee and tea shop where J.K. Rowling wrote the early Harry Potter books. The cafe's website has an old video interview with Rowling where they discuss the success of her first two books. In the interview, Rowling is excited that her first book sold 30,000 copies. She has no idea what's to come. To date, the Harry Potter books have sold more than 400 million copies worldwide.