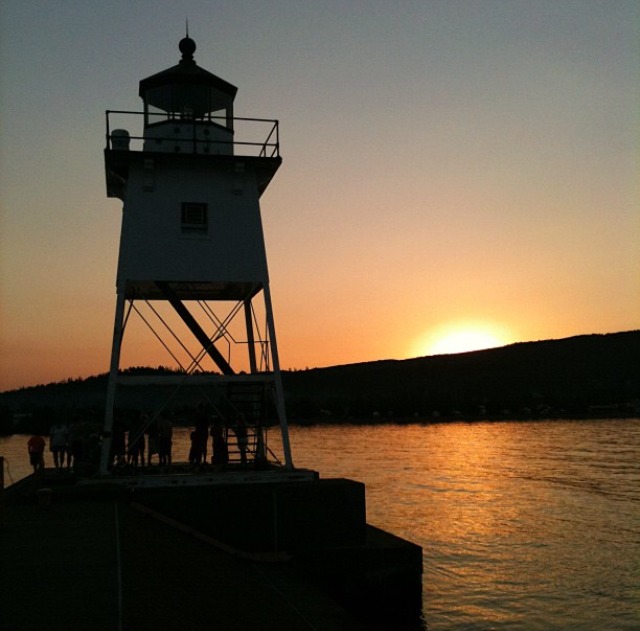 The term "homebody" once sounded derogatory to me. But now, with a full-time job that keeps me away from my home 40 hours a week, I often become a homebody on weekends. I like to travel. I like seeing new places. It's just that my regular absence from it makes the sights and smells and sounds of my home seem novel. Yet, I can also get in the habit of staying put. Last summer, I took a week-long vacation in Colorado. It was my first long vacation in years. As my departure approached, I started to begrudge leaving my pillow, my coffee, my everyday routine.
Of course this changed once I was on the trip. (Something about standing on the side of a mountain has a way of putting my pillow's fluffiness in perspective.) My new experiences energized me. I was reminded that my life needs both the familiar and the new. That the best kinds of creativity and inspiration can come from organic sources: the range of colors in a sunrise, the movement of aspen leaves, the flavors in a new dessert, a conversation with a stranger, and destinations outside the scope of our everyday lives.
A destination that never fails to inspire me is Lake Superior. The northern shore of Lake Superior is a place that exists both on a map and in family lore. Generations of my family spent vacations camping under the sheltering birches and pines, skipping rocks into the lake's blue expanse, and digging for agates on the beach. It's where I first saw the Milky Way and the northern lights. It's where I first skied down a hill and ran from a black bear. Even as a kid, something about the place jump-started my imagination. Upon returning home, waves and lighthouses and seagulls found their way into my poems and drawings.
In July, I returned to "the north shore" for a long weekend. As always, it revived my imagination. I hiked along its rivers, the cider-colored water churning in an endless boil on its way to the lake. I meandered through my favorite art gallery. I collected scraps of birchbark and handfuls of rocks. And as always, I spent time at the water's edge. It was here–in Grand Marais harbor–that I made a new discovery.
A hundred years ago, there were no roads through the dense northern forests. The only way in and out of the wilderness was on a steamship. People would gather on the rocky shoreline and wait for the ship to arrive. To pass the time–or maybe just to leave their mark–they'd carve their names into the rock, often with the date and the name of their home port. I had walked along these rocks countless times and had never noticed the signatures underneath my feet. But when a historical society sign pointed this out, I suddenly saw them everywhere. With each new discovery, I wondered about the people who had carved them. I thought about how different my world was from theirs, yet here I stood watching the same blue-on-blue horizon with the same weather-scarred rock beneath my feet.
I can't have experiences like this in my living room or in front of my computer. I think that's what keeps motivating me to pack my suitcase and leave my routine. Sometimes, inspiration will find you. But often, you need to find it.